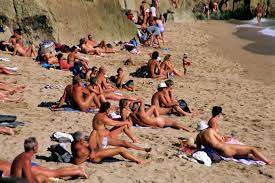 First Timers Primer: It's all about respect of yourself, others and the environment
KISSIMMEE, Fla. (February 8, 2021)– It has been well documented that to prevent a vitamin D deficiency your body needs at least 20 minutes a day of sunshine over at least 75% of your body. So why not get to the beach, better still a nude beach, or even better, take a Nakation℠ to an American Association for Nude Recreation member resort with it's own pond/lake/river beach or pool for cooling off and soaking up the rays.
Not exactly sure what proper etiquette is at a nude beach? The following tips from the American Association for Nude Recreation (www.AANR.com) will help you ease into the enjoyment of a beachside skinny dip so you'll feel as comfortable in the buff as the day you were born.
AANR's ten simple rules of beach etiquette:
Rule #1: Respect wildlife and environmentally fragile areas. Beaches are often in areas safeguarding endangered species of fowl, fish, and fauna. Therefore, avoid endangering the habitat with fire, pollution, or even potentially dangerous foodstuffs.
Rule #2: Keep the beach clean. Not only does AANR suggest that beachgoers clean up after themselves, but they advocate sunbathers "take more trash out than you brought in."
Rule #3: For those visiting the nude section of a local beach, dress before leaving designated clothing-optional use areas. While there, use sun sense and cover up if you feel you've had too much UV exposure.
Rule #4: Respect yourself and others by following appropriate rules of conduct.
Rule #5: Be polite to everyone.
Rule #6: Always get permission before taking scenic photographs.
Rule #7: Use headsets or keep radio volumes turned low. Most beachgoers visit the beach to rest and relax.
Rule #8: Whenever possible, walk along the shoreline. Not only is it more refreshing, but you avoid kicking sand up at the people you pass.
Rule #9: Always carry a towel with you when you leave your spot on the beach. Whether to sit on or wrap around yourself when you walk to public areas such as picnic benches, food stands, restrooms, etc., you will be more comfortable, as will those around you.
Rule #10: Observe local beach rules and safety regulations. When you arrive at a local beach, look for posted signs indicating beach rules and regulations – including hours, rules for swimming, designated areas for biking and roller-blading, parking, etc.
For nudist resort first-timers, the following tips should shed some light on what to expect when you shed your clothes…
Plan Ahead, Call Ahead. Once you've decided on a club for your first visit, it's always a good idea to contact that club and ask questions. What facilities are offered? Is it a clothing-optional or clothes-free club? Are there activities for your children? What are their admission and singles policies? Are your pets allowed? Are rooms or campgrounds for overnight stays available? Are reservations required? Remember, plan your day out, getaway weekend, or vacation as you would any other. The more you know, the more comfortable you'll feel when you arrive. Each club has its own policies regarding admission, activities, facilities, and the consumption of alcohol. As in any public place, underage drinking and the use of controlled substances are prohibited.
Pack Less! What to pack? A light travel bag containing two towels per person (polite nudist etiquette means that you always carry your own towel to sit or lounge on and a second one for the pool), sun block, any athletic equipment and shoes you'll need, toiletries, and a cover-up for chilly days/nights or when you've had too much sun. Leave your camera at home. Most clubs frown on any photography or sharply restrict it to certain areas. In any case, it's NOT something to bring on an initial visit.
Plan to Go Nude! Although some clubs allow visitors to remain clothed while touring the club as a first timer, most clubs expect guests to be "clothed when practical, nude when appropriate." Visitors, as well as members, are required to conduct themselves in a manner that would be considered acceptable at any other public social gathering. There will be people of all ages and backgrounds – families, couples, children, young and old – and they will all have one thing in common… they decided to participate in nude recreation.
As a first timer, please make this important observation, even though you might anticipate it, a nude environment does not have any special sexual connotation. The benefits of nude recreation are based on acceptance of self and respecting the individuality and freedom of others. Experience life clothes-free and you liberate your mind and body. You rediscover the joy you knew as a child… the spirit deep inside you.
About AANR: For 90 years AANR has been the preeminent authority and voice in North America, staunchly protecting the freedoms and rights of those who participate in wholesome, family-style nude recreation. Socially, AANR encourages Nakation℠ vacations as healthy, eco-friendly, transformational travel experiences; while AANR's membership demonstrates conclusively that life is enhanced by the naturalness of social nudity. From exercise to relaxation, a person's physical, spiritual, and mental well-being is enriched through nude recreation and slumber. AANR supports over 180 chartered clubs, resorts, and campgrounds (and is growing), and serves more than 30,000
members and 52 million skinny dipping enthusiasts throughout the U.S., Canada, and internationally. For more information about AANR and for facts related to nude recreation, visit www.aanr.com or call 1-800-TRY-NUDE (879-6833). To receive information on upcoming news and events, sign up for our newsletter here.
Contacts:
Mary Jane Kolassa, Public Relations Consultant 407/463-0040