Promotional Business Listing: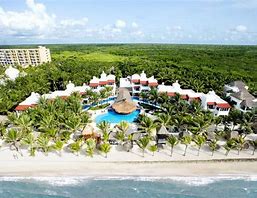 KM 95 Carretera
Cancun, Mexico, Mexico
Every vacation needs a
little spice
Truly an exercise in tasteful nudity, the Karisma Gourmet Inclusive® Experience at Hidden Beach Resort is an opportunity to savor artfully prepared cuisine – crafted from the finest, freshest ingredients – without having to dress for dinner. Whether you choose to dine à la carte at La Vista restaurant, al fresco on the terrace, by candlelight on the beach, or in the privacy of your suite, every meal is a feast for the senses, and a dress code will be the furthest thing from your mind. The resort also boasts skilled mixologists, who are always happy to whip up your favorite cocktails. Our resort offers the perfect balance between relaxation and recreation. When you've had your fill of excitement for the day, fall onto our pillow-soft sky palapas scattered along the coast, or choose to end your night with a starry-skied moonlight massage.