Posted: August 11, 2023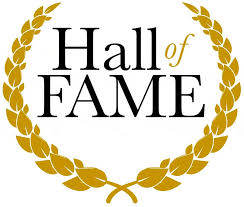 The AANR Hall of Fame was established to honor individual AANR members who have contributed much to the organization throughout history.
The select group of nudists who are included in the AANR Hall of Fame have been
considered by a committee consisting of one representative from each region. Each
year, this committee considers all applications submitted and may elect as many
as two new members to this honor roll. In order to be elected, near unanimous
agreement is required.
The following people have received this award:
Kurt Barthel* 1964
Ilsley Boone* 1964
Alois Knapp* 1964
Rudolph Johnson* 1965
Alicia Lloyd* 1965
Sol Stern* 1968
James Sutherlin, Sr. * 1973
James Cossins* 1975
Tom Goin* 1975
Ray Connett* 1975
Ralph Catino* 1976
Henry Huntington* 1976
Maurice Parmelee* 1977
Robert Johnston* 1977
Forrest Emerson* 1978
Earl Barrett* 1980
Ernie Detwiller* 1980
T. H. Latimer* 1981
Edith Church* 1983
Norval Packwood* 1983
C. O. "Chick" Reinhart* 1984
Russell Fleet* 1985
Donald Johnson* 1987
Arthur "Cot" Cotterill* 1988
Ed Lange* 1989
Glenn Bower* 1992
James Hadley* 1992
Fred Bischoff* 1995
Hap Hathaway* 1998
Elmer Johnson* 1999
Nate Kates* 2000
Jack DePree*2001
Roland Senecal* 2002
Cec Cinder 2003
Lee Baxandall* 2004
Robert T. Page* 2004
Turner Stokes* 2006
Pat Brown* 2009
Bill Williamson* 2012
Beverly Price 2016
Ralph Collinson 2018
Richard Mason 2018
Paul LeValley 2019
Bob Campbell* 2019
Nancy Tiemann Solvin 2020
Shirley Gauthier 2020
Robert Morton 2021
Morley Schloss 2021
BG Parkes 2022
Robert "Bob" Roche 2022
Karen Lahey 2023
Mike Parker 2023