Posted: May 31, 2023
CELEBRATE YOUR PERSONAL INDEPENDENCE DURING
"NUDE RECREATION WEEK" 2023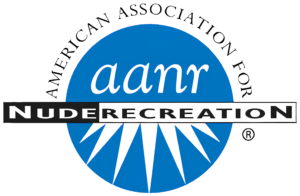 This July, enjoy your own personal "Independence Day" by joining the 45th Annual Nude Recreation Week events at resorts/RV parks and campgrounds affiliated with the American Association for Nude Recreation. Swimming, canoeing, pickleball and tennis are just a few of the amenities to enjoy au natural as you venture on a wholesome, liberating journey from self-conscious to self-confident.
Want to know where to go?  Click on the AANR Club Locator to find a facility near you or in a location you've longed to visit: https://www.aanr.com/club-locator/.  You'll most likely need an advance reservation, so plan ahead.
NRW will be celebrated July 10-17, 2023, with organized activities at nudist resorts and by free-spirited naturists in the comfort of their own home/pool or at designated clothing-optional beaches. One highlight of the festivities is International Skinny Dip Day, observed on July 8 when AANR encourages a visit to a sanctioned clothing-optional beach or private lake/pool.