Posted: January 17, 2023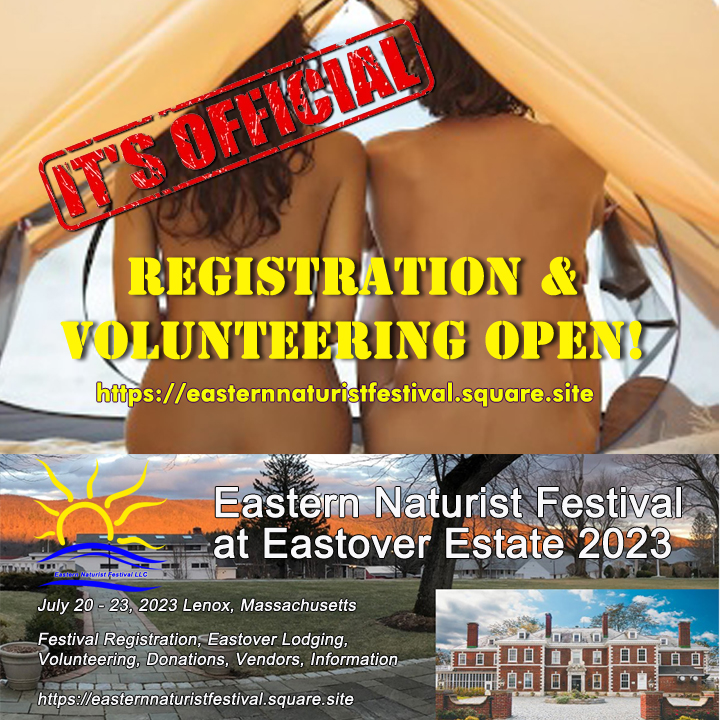 Eastern Naturist Festival at Eastover Estate 2023
"For the naturists by the naturists" "Experience the freedom""
Return to the sprawling 600 acre Eastover Estate in Lenox, Massachusetts for a fabulous Eastern Naturist Festival July 20 – 23, 2023 and have loads of fun in the sun at a venue naturists have been asking to return to year after year! What does the tag line mean? No, it's not just for naturists, it's for everybody including newcomers who may be curious and desire to experience even for the first time a clothing- optional event that is completely attended and run by our expanding community of volunteers.
Author Website: https://easternnaturistfestival.square.site/
Author Twitter: https://twitter.com/EnatFestival
Author Facebook: https://www.facebook.com/EasternNaturistFestival
Come experience the freedom and enjoy four days and three nights of fun filled naturist activities, workshops, seminars, live entertainment, dancing, nature hikes, personal growth and community building at Eastover Estate all at varying per person rates that include meals, accommodations, and taxes. Choose from private single room, 2 person shared room, 4 person shared room, dormitory shared room, camping or RV. Make your selections with private or shared baths. (Due to high demand on space and expected turnout, be sure to book and register as early as possible for best selection, and well in advance of the June 15th registration deadline for this event)
The Eastern Naturist Festival is the flagship and the biggest naturist event on the east coast!
Going forward, the newly formed and independent Eastern Naturist Festival LLC will organize this all volunteer effort independently. The festival is known as an affiliate festival, an umbrella working together with all established and newly established naturist organizations, venues, media, entities, and individuals to further the naturist lifestyle together utilizing the festival as that vessel.
The festival model is based completely on the true naturist idea of giving and receiving through community building, volunteerism, and donations. The end results are not only seen by achieving the continuation of the flagship festival, but by fostering lasting connections and friendships through the process of community building.
What's new for 2023? Last year in 2022 we gave away over $5000 in FREE door prizes to lucky naturists at the Eastern Naturist Festival that included naturist resort stays, day and weekend naturist campground passes, naturist discount cruises, naturist apparel, electronics, and more. This year, we anticipate increasing that amount as we work with accumulating more wonderful naturist venue and corporate donors providing them a vessel to promote their brands, all while they support the big east coast festival. Donors may contact the Eastern Naturist Festival LLC Board directly at the communications link.
A new and improved meal plan for 2023, will provide more meat & poultry dishes, right along side Eastover's healthy and vegetarian fare. Adjustments to spices, beverages, and spirits during the day based on last year's survey results will be implemented, along with changes to breakfast selections.
In addition to the action packed daytime workshop schedule that has a new look and feel with many more additions including world renowned holistic wellness educators and authors . . . the live entertainment, dancing, DJ, and Eastover's Got Talent will all return in 2023 with more surprise offerings evenings.
In 2023, a revised per-person festival registration has been implemented as a two stage procedure, providing for payment of the per-person festival registration service fee, and the per-person all-inclusive Eastover Estate venue accommodations, meals, and taxes in an effort to expedite the process.
Page 2
The GoFundMe effort of 2022 comprised of wonderful private individual naturist donors helped defray a portion of the costs necessary to put on the biggest festival on the east coast. Some who donated, did not even attend the festival, but showed their support financially and in naturist spirit to ensure its success.
This year in 2023 we are encouraging those who are able to donate once again, to support the festival and give back to your very own naturist community so that the naturist festival continues seamlessly.
Vendor space is available this year only to those properly registered and booked festival attendees for an additional nominal fee. Vendors are limited to non-tangible items such as services, clothing, or information due to state sales tax law. The sale of tangible personal property is prohibited. All vendors must supply all of their own materials for their space (i.e. pop-up, tables, camp chairs) Go to the main festival website to sign up for vendor space, register for the festival, and book your accommodations.
Event Registration, Volunteer, Donate, Vendor, and communication links all start here
(Your hub for everything Eastern Naturist Festival) https://easternnaturistfestival.square.site
Registration deadline is June 15th, 2023. Check-in time anytime after 10 AM on Thursday July 20th, and check-out time by 12:00 PM Sunday July 23rd. Includes Thursday lunch and dinner, Friday breakfast, lunch, and dinner, Saturday breakfast, lunch, and dinner, Sunday breakfast.
(Please note that all festival registration service fees are based on a per-person rate, and that all venue bookings are based on a per-person all inclusive rate for the entire festival, not per room, or per RV or tent site. Therefore if you have arranged to share a room, RV, or tent site with another individual, or group of individuals with whom you are properly registering; be sure to enter the quantity of registrations and number of bookings, along with each persons full name and contact information where denoted on both the registration and booking forms.
Single individuals can also book into any of the shared rooms at the venue, and the Eastover Estate will allocate roommates based on room occupancy.
Restrictions
Due to the venue state liquor licensing laws, all liquor must be purchased through and at the venue. Wonderfully the venue serves liquor at the Tally HO cash bar evenings and the dining room during day hours. Please take note that no alcohol that has not been purchased from and at the venue is permitted on the grounds in any of the common areas or public spaces.
Please note that NO photography is permitted on the venue grounds by any registrant or participant, other than by the (1) designated event photographer per agreement with the venue.
NO Pets allowed on estate grounds.
*Please note – no walk-ins or day visitors. Attendees pay the separate per-person festival registration service fee, and the all-inclusive per-person price for Eastover Estate accommodations, meals, and taxes for the entire
(4) day (3) night event duration no matter when you arrive or depart. All festival registrations and venue accommodations must be done online in advance of the registration deadline of June 15, 2023 with valid credit card. No other method of registration or payment is accepted. All registrants, volunteers, participants must be 18 years or older with positive I.D.