Posted: July 27, 2021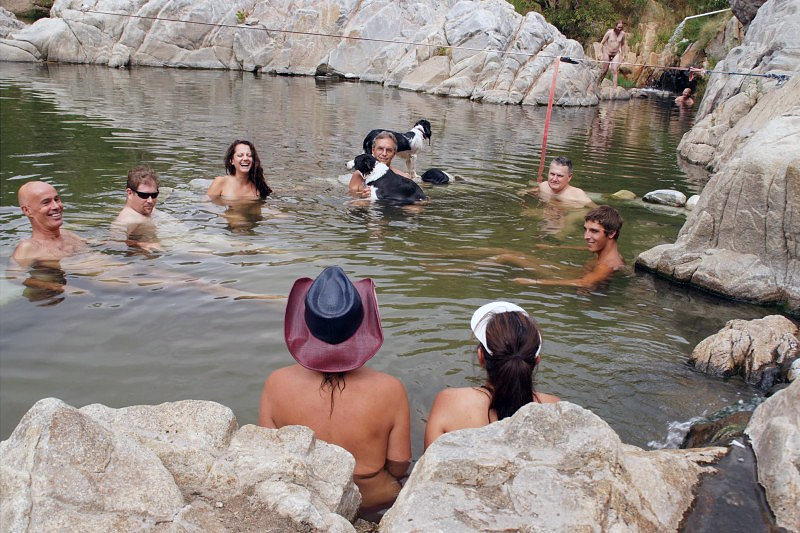 In practice state and local nudity laws are unevenly enforced, often based on what is practical for everyone concerned. State and local officials have negotiated and compromised to give the nudists some avenues of expression.
Some examples of places/events where public nudity is accepted (not a complete list):
Gaviota State Beach, Santa Barbara-San Luis Obispo County border.
More Mesa Beach, Santa Barbara (near Hope Ranch, by agreement with the homeowners).
Avila County Beach (a.k.a. Pirate's Cove), San Luis Obispo (Official!).
Los Padres National Forest (Pine Valley), and Angeles National Forest, Los Angeles County.
Sespe Creek and Wheeler Hot Springs, Ventura County.
Bare to Breakers Run (San Francisco).
World Nude Bike Ride Day (Los Angeles, San Francisco, San Diego).
Auburn Dam Recreation Area, northern California.
Black's Beach San Diego San.
Onofre Beach, San Diego.
Saline Valley, near Death Valley.
Anza Borrego State Park, Imperial County.
Numerous hot springs and secluded beaches throughout the state.
Numerous county beaches around San Francisco and Marin Counties.
Unofficially, nudity occurs at one time or another on every beach in the state. (Ask the rangers or lifeguards at any beach!) Sometimes it is only a woman tourist with her top off rolling over for a few minutes when nobody is around. Often it is someone dressing or undressing on the sand or in the parking lot alongside their cars. Sometimes it is parents letting their young kids run in the surf without their bathing suits.
Enforcement of the law usually involves someone shouting, hey you, knock it off, and the problem is solved as the last thing they want is to be discovered. Deputies are never called, and the system works. Warning: If you cross the line from simple nudity to sexual activity, you can (and probably will) be prosecuted under California Penal Code Section 314, and upon conviction will carry a lifetime registration as a sex offender!. You will also put at risk the clothing-optional status of that beach or hot spring so please don't cross that line. Nudists will also aggressively enforce against misbehavior! The system breaks down when an aggressive peace officer is ignorant of the Smith, Pryor, and Bost court cases (see below), or of the enforcement tradition. The officer just assumes nudity is automatically lewd behavior and writes a ticket without knowing the beach-goer has rights and protections under the law. The remedy begins with educating the local authorities in the in the law and the differentiation of simple nudity from lewd behavior. We can help.