Posted: July 13, 2023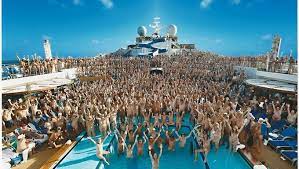 Changing a word on a piece of paper seems simple enough. But when something gets rooted in our minds it can be difficult to make the switch. See my October 2022 Bulletin article, "When Someone Says the C-Word". Clubs that did not have a piece of land where their members meet up to enjoy nudism were called non-landed. For years this was the nomenclature. Now we just say travel club to show they travel or go to a to meet up with other club members. All this wordsmithing still leaves some of us the question, "What does a Travel, Non-landed club do?"
Glad you asked!
I have been a member of such a club since 2010. The activities of a travel club are very much dictated by their members who act as hosts for events. See "How to Host a Nude Event" June 2015. When a new member joins a travel club and they have a pool, they are treated as royalty! Folks are always looking for a place to swim. A host can also supply the location for which members gather to play cards, board games, watch movies or in some cases do some learning! One demonstration on beer making years ago led another member to start his own beer making enterprise. While small in scale now, who knows where it will lead. There was a Black and White film demo where members shot film, processed and printed pictures. There are cooking demonstrations, sewing groups, regular poker nights and on and on.
Travel clubs will also gather a group together and head out to visit nudist destinations. Perhaps a nearby nudist club or nude beach will be their goal. Some will even charter deep sea fishing boats or book international travel. Just look at what the Black Naturists Association calendar looks like!
Just because your club does not have a club house, it does not mean you cannot fully participate in nudism. Use your imagination and have fun!
-Mitch London, AANR President