Posted: June 15, 2022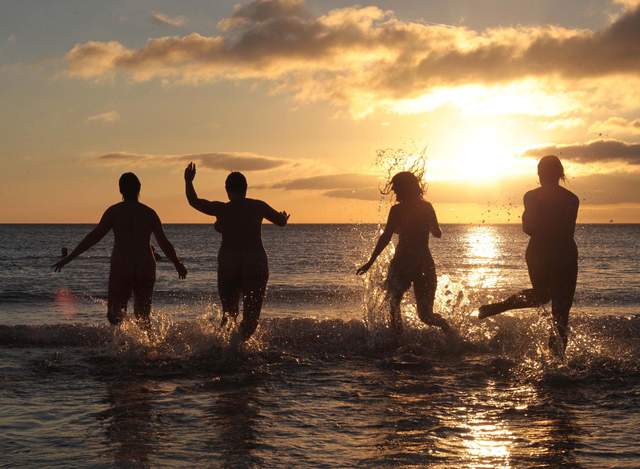 Bob Dixon
According to the dictionary that I referenced (note to self to use the dictionary more often), skinny-dipping means 'to swim in the nude'. That seems pretty simple. As an aside, various dictionaries mentioned that the term has been in use since 1964, or 1947. I wonder what swimming in the nude was called before then.
The thrill – is either because of the freedom of going swimming without the restrictions of our swimming 'costumes' OR is it because we are doing (and loving) an activity that is a little bit illicit?
Even before I came to know that 'nudist' was a thing, I enjoyed swimming naked. I remember from childhood that I went swimming in a pond near our house (I grew up on a rural farm, so privacy wasn't an issue). Later in life, I came to be aware that swimming naked wasn't just something that I enjoyed; there was a whole industry built around the concept that there are many wonderful (read that as normal, or everyday) things that people can do without their clothes on. Helping to preserve the freedom to continue to do these activities is why I continue to volunteer for AANR.
I suspect that most of us think that skinny-dipping occurs in public places, like beaches, parks, rivers, etc. That is, when we go to our nudist clubs or resorts, it is not really skinny-dipping. Well, I guess that is in the eye of the beholder. As long as you are naked and free, just enjoy the occasion!
Much of my personal skinny-dipping has occurred at ocean beaches. For example, my wife and I have enjoyed dipping off the coast of Florida, at Wreck Beach and Black's Beach on the west coast, and some selected beaches of Hawaii. In fact, as I write this story (in mid May), we have just completed a couple days visiting Polo Beach. Polo Beach is a little piece of remote paradise located on the north shore of Oahu.
According to an internet search, the second Saturday in July is known as International Skinny-Dip Day. That would be July 9 this year. Your membership organization, AANR, makes celebration of the day and the related activities one of its featured promotions. Many AANR-affiliated clubs go out of their way to hold skinny-dip recognition events. These clubs have activities and events planned throughout the week – such as open houses, dance parties, sports tournaments, chili cook-offs, "bare buns fun runs," health screenings, art shows, and more. The same types of efforts take place at many clothing optional beaches around the world.
On International Skinny-Dip Day in particular, the textile world is encouraged to join with naturists and free themselves of their clothes and inhibitions by taking a dip au natural in their backyard pool, a secluded spot on a river or lake, at a sanctioned nude beach, or at one of AANR's 180 clubs and resorts throughout the U.S., Canada and internationally. So, join us on July 9, and 'dip your skin'!