Posted: July 26, 2023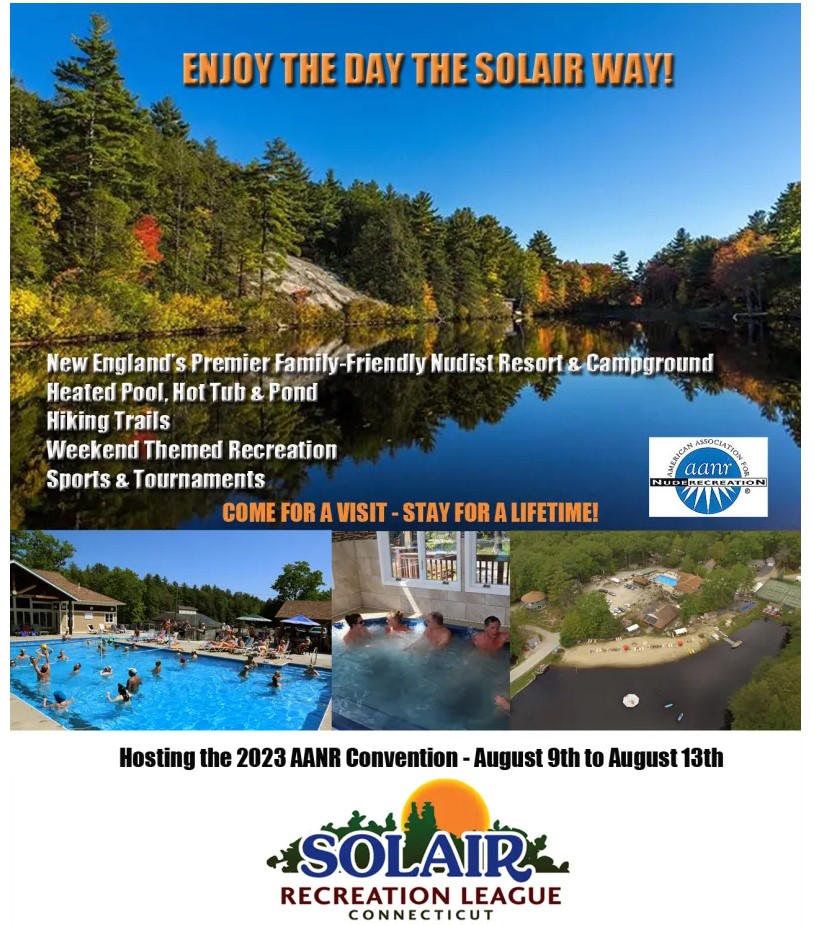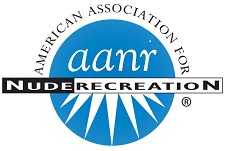 Join Solair for an Exciting Week of Fun and Celebrations at the AANR Convention
Woodstock, CT – Solair Recreation League, a premier nudist resort, is delighted to announce that it will be hosting the American Association for Nude Recreation (AANR) Convention from August 7 – 14, 2023. This multi-day event promises to be a memorable experience filled with a variety of activities to appeal to many.
Attendees will have the opportunity for a unique "Dinner & a Movie" experience. The resort will screen the heartwarming documentary "I Am Big Bird," which chronicles the life of puppeteer Caroll Spinney, the beloved performer behind the iconic Sesame Street character, Big Bird. Guests can enjoy their dinner while watching this remarkable film in the company of fellow naturists.
Discover the rich history of the optical industry at the Night at the (American Optical) Museum event. Guests can explore the fascinating exhibits and artifacts of the American Optical Museum and learn about the heritage of eyewear production. This evening will provide convention attendees with a unique blend of education and entertainment.
As Solair Recreation League celebrates its 90-ish year, it's time for an epic pool party and dance. The Birthday Bash promises to be an exciting evening of music, dancing, and merriment. Join fellow attendees to commemorate Solair's long-standing commitment to providing a welcoming and enjoyable naturist experience.
Throughout the convention, attendees will be offered a variety of recreational activities with a focus on body positivity, wellness, community-building, and the naturist culture.  Solair Recreation League's picturesque grounds also provide ample opportunities for outdoor activities such as swimming, hiking, pickleball, and volleyball.
"We are thrilled to host the AANR Convention this year and provide an unforgettable experience for our guests," said the President of Solair Recreation League. "With a diverse lineup of events and celebrations, we aim to create a supportive and engaging environment that celebrates the naturist community and promotes body acceptance and self-confidence."
The AANR Convention at Solair Recreation League is expected to attract naturists from all over the country, offering an opportunity to network, learn, and celebrate the joys of naturism in a safe and inclusive environment.  The resort's serene and inviting atmosphere creates the perfect backdrop for fostering new friendships and connecting with like-minded individuals.
For registration and more information about the AANR Convention at Solair Recreation League, please visit https://www.aanr.com/aanr_articles/2002-meetings-and-events/ or contact 860-928-9174.
About Solair Recreation League:
Solair Recreation League is a renowned nudist resort situated in Woodstock, CT. With a rich history dating back to 1934.  Solair has provided a welcoming space for naturists to embrace the beauty of nature, socialize, and enjoy various recreational activities.  For more information about Solair, visit: https://www.solairrl.com
About AANR:
The American Association for Nude Recreation (AANR) is the leading organization advocating for the enjoyment and preservation of naturist lifestyles. With a dedicated focus on promoting nude recreation, AANR provides education, resources, and support to individuals and organizations within the naturist community.
---
Embracing Freedom and Acceptance:
Solair Recreation League Hosts AANR Convention with a Charitable Twist
Solair Recreation League is gearing up to host this year's American Association for Nude Recreation (AANR) Convention from August 7-14, 2023.  With the convention's theme centered around "Protecting our freedom…promoting acceptance," Solair will bring together naturists from across the country to celebrate the beauty of being clothing-free while emphasizing the significance of freedom and acceptance within the community.
Protecting Our Freedom:
The convention's theme, "Protecting our freedom," underscores the ongoing efforts to safeguard the rights and privileges of naturists. While naturism faces occasional challenges and misconceptions, AANR is dedicated to defending the rights of individuals to practice naturism without fear or prejudice.
Promoting Acceptance:
"Promoting acceptance" lies at the heart of the convention's theme, highlighting the need for inclusivity within the naturist community. The Solair Recreation League, known for its warm and accepting atmosphere, strives to create an environment where people of all backgrounds and body types feel comfortable and valued.
For this event, we are raising funds for the AANR Government Affairs Team (GAT), whose volunteers monitor bills at the state and national levels that impact nudism (https://www.aanr.com/aanr-articles-stories/?_categories=government-affairs). By promoting awareness and education, the convention aims to dispel common misconceptions surrounding naturism, emphasizing the importance of respecting personal choices and celebrating diverse body positivity. On Friday, August 11th, Solair will host a silent auction from 2 to 5PM, along with exhibits from other resorts and related resources. All proceeds support GAT efforts.
The AANR Convention is an exciting opportunity for naturists to come together and advocate for a more inclusive and accepting world. By addressing misconceptions, promoting awareness, and embracing diversity, this convention is a powerful catalyst for positive change within the naturist community. Through its commitment to freedom and acceptance, Solair Recreation League continues to pave the way for a more harmonious and inclusive future for all naturists.
To donate items for the Auction, please get in touch with solair@solairrl.com. You can donate directly to GAT at https://my.aanr.com/donate-now. To learn about Solair or plan a visit, see solairrl.com.
AANR does the best that it can given the resources it has.  They rely on volunteers, much as we do. Imagine how much more could be done….professional fundraising, more lobbyists, high-level marketing, extensive public surveys, etc….if every person who enjoys a clothing-free opportunity were to join our organization.
Finally, it is considered an honor to have the AANR convention at one's resort with the opportunity to share and exchange ideas with the leadership and influence the direction of the organization. We help AANR to recoup a small amount of its costs for producing and disseminating brochures, providing promotional materials, travel expenses, providing some refreshments, etc. by the nominal $10 registration fees for attendees, excluding those that volunteer.  Hopefully, this endeavor will be as successful and rewarding as the many other events Solair runs.
Respectfully, Ronna Krozy
AANR Public Relations Chair
AANR Conventions and Facilities Chair
May 28, 2023
---
More information about AANR is available on the AANR Website. Solair is a member of the Eastern Division of AANR and they also have a website located at https://aanr-east.com/