Posted: July 15, 2021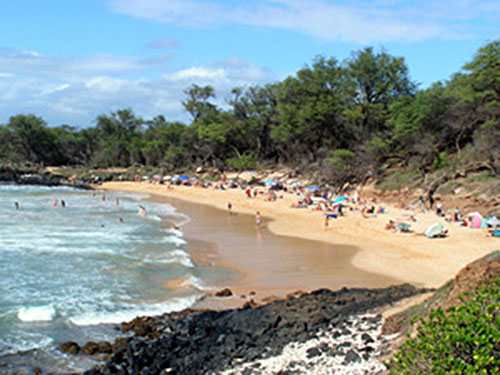 Little Beach in South Maui, Hawaii
Little Beach is Under Attack!
Now that lockdowns are easing and summer plans are coming into focus, it's good to know what has happened while many people have been stifled in enjoying nude time. Sometimes the lockdown resulted in poor responses for nude recreation and other times in nudists rising.
A couple of months ago, Bill Schroer from the Naturist Action Network (NAC) alerted the Government Affairs Team (GAT) to an issue growing on Maui. The immediate concern was a response to a lockdown of Little Beach, supposedly in response to public gatherings in violation of coronavirus rules. Drum circles on the weekend were the noticed violation. A fence and gate were erected on the path to the beach, and a curfew of 4 p.m. was established for weekends.
Little Beach has long been recognized for its nude-friendly attitude. For years, Dave Swanson ran The Friends of Little Beach (FOLB) group and, much like Haulover Beach in Florida, helped organize beach ambassadors and worked to keep Little Beach a positive place for nudists. When Dave moved on, FOLB faded, and without a local regular presence, the situation at Little Beach grew a little rougher. Drum circles were a small part of Little Beach, but the rise of drug and alcohol use, along with the access issue to the beach, was enough for Hawai`i Department of Land and Natural Resources (DLNR) authorities to move in and try to make changes.
GAT and NAC support efforts to make Little Beach safer again, but we don't support the ban on nudity. DLNR put up a fence and installed a sign that read, "No Nudity." This made it very clear that removing nudity was the first thing on their agenda. Now, new users are organizing a new Friends of Little Beach, and they are trying to work to bring Little Beach back to the little part of paradise nudists love.
It happened that Suzanne Schell, owner of Mira Vista and Laguna del Sol resorts, was on Maui in April after GAT first reported the problems at Little Beach in the weekly updates and the AANR-West newsletter. Suzanne shared that little has changed from the nudity-tolerant days. While there, she did observe rangers routing people toward the trail to clear the beach before closing, but little attention was paid to nudity. It was more of a clearing effort before the curfew.
GAT is encouraging the new Friends of Little Beach to organize and support their efforts to reclaim Little Beach.