Posted: April 12, 2023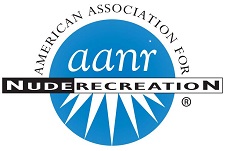 I need to thank Mitch London for asking me to write about something other than GAT. I came on the AANR-West Board in 2011 to represent my travel club, Northern California Exposure. We are a 100% AANR club, and we do a lot of joint activities with the TNS affiliated River Dippers Club.
Prior to joining the travel clubs, I had been to a couple of AANR clubs in Southern California, where I grew up. In fact, my first experiences with nude recreation go all the way back to my time in Boy Scouts. Not that scouting was open to nude recreation, but our summer camp in the Sierra was near a spot frequented by college students in the Kern River Canyon above Bakersfield. Back then we were told to stay away from the area where the "hippies"' were hanging out. Of course, that was where we went when we got the chance! It was a rock face the Kern River ran over, making it a smooth water slide. There was about a 20-foot drop into a sandy area at the bottom. Years later when I got into college I would go camping in that area and renewed my appreciation of the cold water in the hot summer months.
By the time I was out of college and my wife and I were camping in the Sierra we would find spots like that for laying around and enjoying the freedom of clothes-free sun tanning. I never really looked for an organized naturist group back then, but when I moved to Northern California I found Rawhide Ranch was near my new home. The Ranch became Laguna del Sol, and I am a member there. It was really the difference between the free use areas we could find on our own and talking to people there that led me to join a local travel club.
The travel clubs had nude swims at members' homes in the summer and indoor nude swims in the colder months. It was the travel clubs that brought me to AANR. The idea of an international organization supporting a local club's nude use of local areas was appealing and comforting. I joined AANR and TNS because I felt that support for local clubs was important for me and a worthy cause. I still feel AANR provides a valuable service to nudists and those who support nude use of public lands.
– Tim Mullins