Black's Beach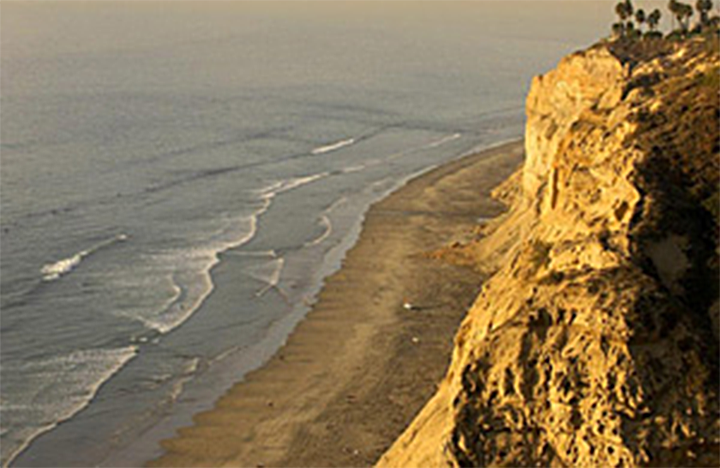 Location:
Nearest City: San Diego,
State/Province: California
Country: United States
Description
When the PGA Tour stopped at the Torrey Pines golf course for the U.S. Open in 2008, it was impossible to miss Black's Beach, perhaps the most famous stretch of nude beach coastline in North America.
That's because Torrey Pines is located about a hundred yards above the two-mile stretch of nude beach in La Jolla, California. During the tournament top golfers like Tiger Woods and Phil Mickelson, both Southern California natives, were asked if they ever had made the steep trek down to the beach. Both issued quick denials but were obviously familiar with the beach. Everyone, it seems, has a Black's Beach story or two.
In its 1970s heyday, Black's Beach attracted up to 60,000 visitors on warm weekend days, outdrawing nearby attractions such as the San Diego Zoo and SeaWorld. Back then, nudity was condoned by the city council, but was outlawed in 1977 in a public referendum after religious zealots rallied support against it.
But the anti-nudity law has been rarely enforced because it hasn't been a priority for either city lifeguards or state park rangers at Torrey Pines State Reserve. In 1999, officials began to enforce the long-standing but rarely enforced anti-nudity statute on the southern end of the beach, south of the Torrey Pines glider port.
Most nudists rarely ventured south of the glider port, which sits high atop cliffs more than 300 feet above the beach, not far from the most frequently used trail leading down to the water.
Black's Beach is popular among surfers, who like nudists are willing to make the steep, winding trek among mostly dirt paths to reach the beach. The trip deters most gawkers.
Black's Beach is one of few nude beaches where it's possible to go on a four-mile, round-trip run, surf nude, and enjoy a beach atmosphere that harkens back to the 1970s. Though the beach sits below some of the world's priciest real estate, development is not a concern because of the steep cliffs and the existing glider port and golf course.
Conveniently located off Interstate 5, not far from the University of California-San Diego, Black's remains one of San Diego's top tourist attractions. For nudists, it ranks at the top of the list.