Haulover Beach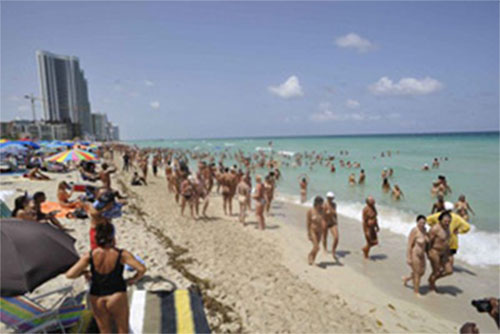 Location:
Nearest City: Ft. Lauderdale,
State/Province: Florida
Country: United States
Description
Even European visitors accustomed to nudity in urban settings marvel at Miami's Haulover Beach, one of the greatest success stories in North American nudism.
Nestled between the high-traffic Collins Avenue and the Atlantic Ocean on an undeveloped stretch of beach between high-end hotels and condominiums, Haulover attracts thousands of nudists on warm afternoons. They enjoy a white-sand beach, crystal-clear waters, and full beach amenities – all just a short drive to anywhere in Miami or Fort Lauderdale.
Thanks to the yeoman efforts of South Florida Free Beaches over nearly two decades and the economic impact of Haulover, the nudist designation seems as secure as a nude beach can be. That begs the question of why such nude beach models could not be followed elsewhere in North America.
Certainly nobody envisioned two decades ago the stretch of Haulover that's now clothing-optional becoming a premier beach destination of any sort. Back then, gang members conducted drug transactions. The north parking lot that now generates millions in parking revenue for Dade County was a dirt lot used for industrial storage.
On July 14, 1991, a few dozen members of South Florida Free Beaches cordoned off an area with "Nude Sunbathing Zone" signs. SFFB members cleaned up and policed the area. The group won a legal battle in 1992 after five nude sunbathers were arrested.
Over the years, the group lobbied for the construction of the north parking lot and for lifeguards and has worked tirelessly to educate local officials, especially newly-elected ones. The county posted permanent signs informing visitors of the nude sunbathing designation.
Though development has encroached upon Haulover, with many of the kitschy beach hotels to the north torn down in recent years to make way for high-rise condominiums, the real estate crash has kept developers from wanting to extend their reach further south.
No one can deny the economic impact of Haulover. While it's difficult to quantify the impact of top-free sunbathing at South Beach, Dade County officials only have to look at the increase in parking revenue at Haulover. From 1991 to 2004, parking revenue increased a whopping 445 percent, due primarily to the nude stretch. One survey showed that 50 percent of Haulover visitors are tourists, many from Europe.
In an area where skimpy clothing, glitz, and buzz are as much a part of the culture as Cuban cuisine and stone crabs, perhaps the best way to measure the success of Haulover is that it's not seen as any big deal. After all, it's been a South Florida institution for almost two decades.