Playalinda Beach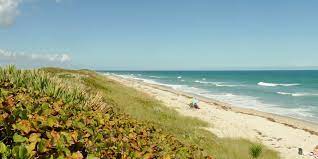 Location:
Nearest City: Cape Canaveral,
State/Province: Florida
Country: United States
Description
Updated description (2022): Playalinda is accessible from Titusville, Florida. The beach is currently open to the public daily between 6:00 am to 8:00 pm. Access to the beach may be closed periodically in preparation for rocket launches from Cape Canaveral Space Force Station or the Kennedy Space Center, which are just south of Playalinda Beach. Canaveral National Seashore has concurrent jurisdiction with both the state of Florida and its counties of Volusia and Brevard. Federal, State and County law enforcement officers may enforce any and all respective laws/ordinances that do not conflict with Federal laws and regulations. Brevard County has an ordinance that prohibits nudity in public places. Playalinda Beach is within the jurisdiction of Brevard County thus the nudity ordinance is enforceable by county and state law officers as well as federal park rangers. The laws are rarely or erratically enforced, however, affording the beach a de facto clothing-optional status. This is only at the last parking location parking lot #13. (On crowded days this spills south into 12 and 11. If Lot 13 is full go across from the lot where you find a space and head north until you encounter fellow nudists, it will probably be right where you come out at 11 or 12. Just don't be the lone outlier or pioneer among the textiles.
A fee is required to enter the Canaveral National Seashore.
Per vehicle : $20.00 per day
Motorcycles: $15.00 per day
Walk-in fee : $10.00 per day (bicycles, pedestrians, occupants of large non-commercial vehicles).
CANA/MINWR annual pass: $40 (Valid at Canaveral National Seashore and Merritt Island Wildlife Refuge.
America the Beautiful annual pass: $80 is available to anyone; gives access to more than 2,000 federal recreation sites.
Senior pass: $80.00 Lifetime
Free entrance days
January: Birthday of Martin Luther King, Jr.
April: First day of National Park Week
Aug 25: National Park Service Birthday
Sep 25: National Public Lands Day
Nov 11: Veterans Day
WEB SITE
Original description (2012): Playalinda is the better known of two nude beaches on Cape Canaveral. (Apollo Beach is farther north.) It is an extremely beautiful beach bordered by sand dunes and sea oats. The beach attracts large crowds, but there is plenty of room to spread out since you can be naked for as far north as you could possibly care to walk. The accepted nude area begins just north of the northernmost parking lot.
Playalinda has had a rocky relationship with law enforcement officials. Naturist organizations have had to work tirelessly and constantly to ensure that Playalinda remains a safe haven for nudists. Brevard County passed an anti-nudity ordinance in 1995, but National Park Service (NPS) rangers do not enforce the ordinance in the traditional nude area (north of crossover 13, which is accessed from parking 13B), and the sheriff's department has more or less been persuaded to leave the beach alone. Although the likelihood of being hassled for nudity is virtually nil, park rangers draw the line at lewd behavior; fines and penalties are severe.
A particularly important bit of information for Playalinda visitors concerns space shuttle launches from nearby NASA: the beach is closed for several days when there is a space shuttle launch (usually the day before, the day of and the day after the launch). Call Canaveral National Seashore at (321) 867-4077 for closure dates, and remember that Apollo Beach is an alternative when Playalinda is closed.
This beach is undeveloped: no phones, no showers, no running water… just primitive toilets. Be sure to bring drinking water with you. Glass containers are prohibited, as is walking in the dunes.
You could, theoretically, think of Playalinda and Apollo as one long nude beach—that is, if you are up for a seriously long walk. The wild, pristine 14-mile stretch of beach between them is known as Klondike Beach, and it is so far removed from civilization that the question of whether or not swimsuits are necessary is irrelevant. The only way to reach Klondike is to walk through one of the two nude areas or arrive by boat. The road behind the beach is closed to the public. The closest driving distance between Playalinda and Apollo is 55 miles (plus 12 extra miles if you take Interstate 95 instead of State Highway
Directions: I-95 Exit 220, east on FL 406 across the A. Max Brewer Memorial Bridge, slide right on FL402 straight and enter the Canaveral Seashore. Proceed to boardwalk 13
Per vehicle : $20.00 per day
Motorcycles: $15.00 per day
Walk-in fee : $10.00 per day (bicycles, pedestrians, occupants of large non-commercial vehicles).
CANA/MINWR annual pass: $40 (Valid at Canaveral National Seashore and Merritt Island Wildlife Refuge.
America the Beautiful annual pass: $80 is available to anyone; gives access to more than 2,000 federal recreation sites.
Senior pass: $80.00 Lifetime
Free entrance days
January: Birthday of Martin Luther King, Jr.
April: First day of National Park Week
Aug 25: National Park Service Birthday
Sep 25: National Public Lands Day
Nov 11: Veterans Day
WEB SITE https://www.visitspacecoast.com/titusville/things-to-do/playalinda-beach-canaveral-national-seashore