For Immediate Release
TRENDING NOW: SURPRISE TRAVEL NAKATION℠ VACATIONS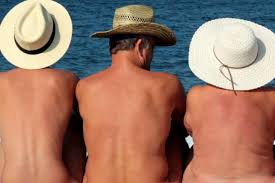 (Kissimmee, Florida - July 7, 2022)
KISSIMMEE, Fla. (July 2022) — One of the latest vacation trends comes in the form of "surprise travel." This is where a travel professional, or your travel partner, plans your vacation where the destination is a surprise until the day you depart. It encourages spontaneity, the spirit of adventurousness and a stepping out of one's comfort zone.
One recommended form of surprise travel is the Nakation℠ vacation. It's great for those looking to unplug from cell phones and social media and reconnect with one's inner persona amid natural surroundings. A Nakation is a visit to a clothes-free resort, RV park, club or campground affiliated with the American Association for Nude Recreation. Hint: If you are not wearing any clothes then you have nowhere to put your cell phone.
A Nakation is a form of transformational travel where one takes a journey to appreciate oneself (and others) in a new light and enact a personal transformation. Besides body acceptance and personal freedom, non-sexualized nude recreation and Nakationing achieves added relaxation, self-respect, stress-reduction, and acceptance of others for who they are. When the clothes are shed, so too are the stresses of everyday life. No one at a nudist resort judges others based on their exterior, not whether they are blue collar or white collar, for there's no collar shown.
And there's lots of outdoor recreation to be enjoyed. While swimming and tennis seem to be among the sports most often associated with naturism, many clubs offer a variety of leisure activities to accommodate the interest of nudists young and old, active, or passive. Swimming pools and lakes are commonplace, but visit a club in your area, and one is bound to find sports such as volleyball, golf, pickleball, badminton, bocce ball, shuffleboard, and hiking/nature trails. Others also offer fishing, boating, full-scale exercise rooms, basketball courts, croquet, table tennis and spas.
To find an AANR club/resort/campground near you, visit https://www.aanr.com/places-to-go/aanr-clubs. To interview a Nakation enthusiast or for an editorial visit to an AANR facility, please contact us as noted below.
# # #
About AANR:
For 90 years AANR has been the preeminent authority and voice in North America, staunchly protecting the freedoms and rights of those who participate in wholesome, family-style nude recreation. Socially, AANR encourages Nakation℠ vacations as healthy, eco-friendly, transformational travel experiences; while AANR's membership demonstrates conclusively that life is enhanced by the naturalness of social nudity. From exercise to relaxation, a person's physical, spiritual, and mental well-being is enriched through nude recreation and slumber. AANR supports over 180 chartered clubs, resorts, and campgrounds (and is growing), and serves more than 30,000 members and 52 million skinny dipping enthusiasts throughout the U.S., Canada, and internationally. For more information about AANR and for facts related to nude recreation, visit
www.aanr.com
or call 1-800-TRY-NUDE (879-6833). To receive information on upcoming news and events, sign up for our newsletter here.
Media Contact:
Mary Jane Kolassa
Public Relations Consultant
Phone: (407) 463-0040
Email:
MJKolassa@gmail.com