For Immediate Release
CELEBRATE YOUR PERSONAL INDEPENDENCE DURING NUDE RECREATION WEEK 2023
(Kissimmee, Florida - May 30, 2023)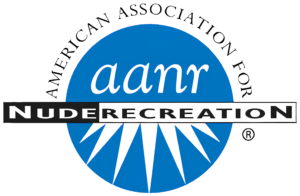 KISSIMMEE, Fla. (May 30, 2023) — This July, enjoy your own personal "Independence Day" by joining the 45th Annual Nude Recreation Week events at resorts/RV parks and campgrounds affiliated with the American Association for Nude Recreation. Swimming, canoeing, pickleball and tennis are just a few of the amenities to enjoy au natural as you venture on a wholesome, liberating journey from self-conscious to self-confident.
Want to know where to go?  Click on the AANR Club Locator to find a facility near you or in a location you've longed to visit: https://www.aanr.com/club-locator/.  You'll most likely need an advance reservation, so plan ahead.
NRW will be celebrated July 10-17, 2023, with organized activities at nudist resorts and by free-spirited naturists in the comfort of their own home/pool or at designated clothing-optional beaches. One highlight of the festivities is International Skinny Dip Day, observed on July 8 when AANR encourages a visit to a sanctioned clothing-optional beach or private lake/pool.
# # #
About AANR:
For 90 years AANR has been the preeminent authority and voice in North America, staunchly protecting the freedoms and rights of those who participate in wholesome, family-style nude recreation. Socially, AANR encourages Nakation℠ vacations as healthy, eco-friendly, transformational travel experiences; while AANR's membership demonstrates conclusively that life is enhanced by the naturalness of social nudity. From exercise to relaxation, a person's physical, spiritual, and mental well-being is enriched through nude recreation and slumber. AANR supports over 180 chartered clubs, resorts, and campgrounds (and is growing), and serves more than 30,000 members and 52 million skinny dipping enthusiasts throughout the U.S., Canada, and internationally. For more information about AANR and for facts related to nude recreation, visit
www.aanr.com
or call 1-800-TRY-NUDE (879-6833). To receive information on upcoming news and events, sign up for our newsletter here.
Media Contact:
Mary Jane Kolassa
Public Relations Consultant
Phone: (407) 463-0040
Email:
MJKolassa@gmail.com