For Immediate Release
DEBT-FREE WEDDING OPTION: NATURIST WEDDING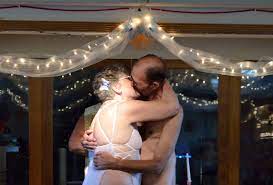 (Kissimmee, Florida - June 2, 2022)
KISSIMMEE, Fla. (June 2022) — There have been stories about underwater weddings, and "I dos" pronounced mid-air while skydiving, but one yet to be reported on wedding that's definitely no frills and easy on the budget – and perhaps a picture of how it was for Adam and Eve, is a nude wedding.
For many naturists, the best way to be joined in holy matrimony is to do so in their most natural state, as they were born – nude.
Fiscally it also makes perfect sense, as it avoids having to shop for a wedding dress or rent a tuxedo. Many brides wear short tulle or birdcage veils and carry a floral bouquet, while many grooms opt to sport a cummerbund and bow tie. The American Association for Nude Recreation (AANR.com) is home to over 180 clubs throughout the U.S. and Canada and internationally, available for accommodating nude weddings. AANR clubs have not only hosted nude weddings and vow renewals, there are also members within the Association who are ordained ministers and licensed to perform the nuptials.
The wedding album is clearly unlike any you've seen before. And as the numbers of people who enjoy nude recreation continues to grow, so too does the number of couples who are enjoying this freedom combined with marital bliss.
AANR resorts are also great naturist honeymoon venues too. AANR members believe for a happy marriage couples should spend as much time together in their birthday suits. Yes, nude when possible, clothed when practical. Because when you disrobe, you shed all the tension and anxieties of the everyday world. You are happier and freer. This feeling carries through into your relationship, encouraging you to be honest and caring with your spouse. So start your new married life honeymooning at a nudist Resort or RV Park/Campground in the U.S., Canada, Mexico, the Caribbean and Internationally.
And it won't break the bank. The average couple spends around $4,500 on their honeymoon. But a Nakation (nudist resort vacation) will cost less than half that. Additional savings will be enjoyed by not needing to buy a honeymoon wardrobe, plus everything you pack will fit in a carry-on saving airline checked luggage fees.
Not sure where to go? Visit AANR's club and resort locator site at https://www.aanr.com/places-to-go/aanr-clubs for the perfect honeymoon spot in the sunbelt, on an island, in the desert or mountains.
You know that wonderful feeling you have by taking off your shoes after a hard day at work? Well your whole body will enjoy that same sense of freedom and relaxation, once you arrive for your Honeymoon Nakation. And sharing that feeling with the one you have vowed to love is a dream come true. It's especially poignant for second honeymooners seeking to rekindle the flame of their original honeymoon.
Go to any nudist resort and you will meet very happily married couples and people in committed long-term relationships who will share their stories about marital bliss as a full time or part time nudist. If you really want a happy marriage, get rid of the clothes, and enjoy life together nude as much as possible, starting with your honeymoon.
Mary Jane Kolassa,
Public Relations Consultant,
407/463-0040, MJKolassa@gmail.com
# # #
About AANR:
For 90 years AANR has been the preeminent authority and voice in North America, staunchly protecting the freedoms and rights of those who participate in wholesome, family-style nude recreation. Socially, AANR encourages Nakation℠ vacations as healthy, eco-friendly, transformational travel experiences; while AANR's membership demonstrates conclusively that life is enhanced by the naturalness of social nudity. From exercise to relaxation, a person's physical, spiritual, and mental well-being is enriched through nude recreation and slumber. AANR supports over 180 chartered clubs, resorts, and campgrounds (and is growing), and serves more than 30,000 members and 52 million skinny dipping enthusiasts throughout the U.S., Canada, and internationally. For more information about AANR and for facts related to nude recreation, visit
www.aanr.com
or call 1-800-TRY-NUDE (879-6833). To receive information on upcoming news and events, sign up for our newsletter here.
Media Contact:
Mary Jane Kolassa
Public Relations Consultant
Phone: (407) 463-0040
Email:
MJKolassa@gmail.com