For Immediate Release
HERE'S HOW TO ENJOY VALENTINE'S DAY LIKE A NUDIST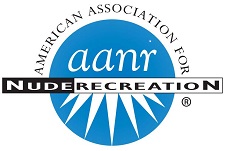 (Kissimmee, Florida - January 25, 2023)
KISSIMMEE, Fla. (Feb. 2023) — As Valentine's Day gets closer, it's time to think outside of the candy box to amp things up in one's relationship.
Fun loving couples looking for more unique getaway travel experiences to celebrate this Valentine's Weekend, one that they will cherish and remember forever, now have a "bucket list" option.
They can book themselves into an area nudist resort and shed some of life's stresses along with their clothes with a break from the ordinary (and Covid-era isolation) by calling the American Association for Nude Recreation at 1-800-TRY-NUDE or visiting www.aanr.com/aanr-clubs/ to enjoy a Nakation℠ vacation. And there are added health benefits: sunlight on the body enhances brain health, hormonal health, sound sleep, and it also boosts serotonin to enhance mood.
For couples who have already enjoyed the skinny dip and Nakation experience together, think about purchasing a couple's membership through AANR, providing discounts when visiting member resorts, clubs and campgrounds, along with many other benefits. Membership is only $64.00 per person a year/$113 per couple.
While swimming and tennis are among the sports most often associated with nude recreation, many AANR clubs and resorts offer a variety of leisure activities to accommodate the interest of nudists young and old, active or passive.  Swimming pools and lakes are commonplace but visit a club and one is bound to find sports such as volleyball, golf, badminton, bocce ball, petanque, shuffleboard and hiking/nature trails.  Others also offer fishing, boating, cycling, basketball courts, croquet, table tennis, full-scale exercise rooms and spas – what's not to love about a massage in the nude.
Though during February many of these activities are mostly enjoyed at resorts in the Sunbelt, there are northern AANR resort and club venues (the term: colony is so passé) with lots of indoor amenities and festivities planned to entertain winter guests such as cupid shuffle dancing and candlelit dinners.
For membership benefit and sign up, log onto http://www.aanr.com/join-renew .  To purchase AANR logoed items visit: https://www.zazzle.com/store/aanr_store.
# # #
About AANR:
For 90 years AANR has been the preeminent authority and voice in North America, staunchly protecting the freedoms and rights of those who participate in wholesome, family-style nude recreation. Socially, AANR encourages Nakation℠ vacations as healthy, eco-friendly, transformational travel experiences; while AANR's membership demonstrates conclusively that life is enhanced by the naturalness of social nudity. From exercise to relaxation, a person's physical, spiritual, and mental well-being is enriched through nude recreation and slumber. AANR supports over 180 chartered clubs, resorts, and campgrounds (and is growing), and serves more than 30,000 members and 52 million skinny dipping enthusiasts throughout the U.S., Canada, and internationally. For more information about AANR and for facts related to nude recreation, visit
www.aanr.com
or call 1-800-TRY-NUDE (879-6833). To receive information on upcoming news and events, sign up for our newsletter here.
Media Contact:
Mary Jane Kolassa
Public Relations Consultant
Phone: (407) 463-0040
Email:
MJKolassa@gmail.com