For Immediate Release
IT'S NEVER TOO LATE TO ENJOY A NAKATION VACATION Celebrate the comfort, freedom and body acceptance that Naturism fosters
(Kissimmee, Florida - August 25, 2023)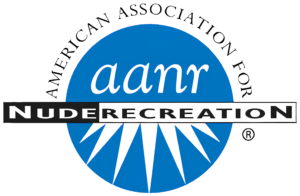 KISSIMMEE, Fla. (August 2023) — As 2023 is a bounce-back year for travel, why not take a trip before or during the Labor Day holiday that takes you out of your comfort zone and your clothes and takes you on a journey from self-conscious to self-confident.  We're talking about taking a Nakation℠ vacation to a club/resort/campground/RV park affiliated with the American Association for Nude Recreation (AANR.com).
If you are completely new to the idea, naturism is based in the belief that the human body in its natural state should be celebrated, not concealed with clothes between you and the open air. It also helps foster self-respect and respect for others and the environment.
If your calendar is too full to Nakation now, budget-conscious travelers seeking to enjoy deeper discounts during the fall shoulder season can extend their summer by taking a Nakation vacation in the sunbelt region.
So what's to do on a Nakation? While swimming and tennis are among the sports most often associated with nude recreation, many facilities offer a variety of leisure activities to accommodate the interest of nudists young and old, active or passive. Swimming pools and lakes are commonplace, as are sports such as volleyball, golf, pickleball, badminton, bocce ball, shuffleboard and hiking/nature trails. Many clubs also offer fishing, boating, full-scale exercise rooms, basketball courts, croquet, table tennis and spas.
To find an AANR-affiliated club/resort/campground across the U.S. or Canada log onto: https://www.aanr.com/club-locator/
# # #
About AANR:
For 90 years AANR has been the preeminent authority and voice in North America, staunchly protecting the freedoms and rights of those who participate in wholesome, family-style nude recreation. Socially, AANR encourages Nakation℠ vacations as healthy, eco-friendly, transformational travel experiences; while AANR's membership demonstrates conclusively that life is enhanced by the naturalness of social nudity. From exercise to relaxation, a person's physical, spiritual, and mental well-being is enriched through nude recreation and slumber. AANR supports over 180 chartered clubs, resorts, and campgrounds (and is growing), and serves more than 30,000 members and 52 million skinny dipping enthusiasts throughout the U.S., Canada, and internationally. For more information about AANR and for facts related to nude recreation, visit
www.aanr.com
or call 1-800-TRY-NUDE (879-6833). To receive information on upcoming news and events, sign up for our newsletter here.
Media Contact:
Mary Jane Kolassa
Public Relations Consultant
Phone: (407) 463-0040
Email:
MJKolassa@gmail.com