For Immediate Release
Join Solair for an Exciting Week of Fun and Celebrations at the AANR Convention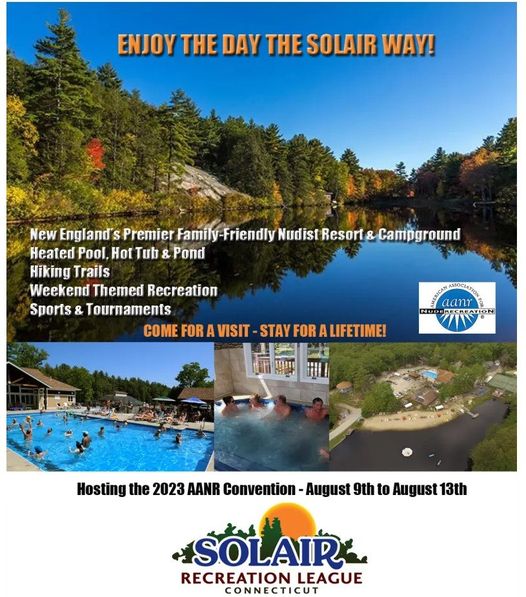 (Kissimmee, Florida - July 28, 2023)
Woodstock, CT – Solair Recreation League, a premier nudist resort, is delighted to announce that it will be hosting the American Association for Nude Recreation (AANR) Convention from August 7 – 14, 2023. This multi-day event promises to be a memorable experience filled with a variety of activities to appeal to many.
Attendees will have the opportunity for a unique "Dinner & a Movie" experience. The resort will screen the heartwarming documentary "I Am Big Bird," which chronicles the life of puppeteer Caroll Spinney, the beloved performer behind the iconic Sesame Street character, Big Bird. Guests can enjoy their dinner while watching this remarkable film in the company of fellow naturists.
Discover the rich history of the optical industry at the Night at the (American Optical) Museum event. Guests can explore the fascinating exhibits and artifacts of the American Optical Museum and learn about the heritage of eyewear production. This evening will provide convention attendees with a unique blend of education and entertainment.
As Solair Recreation League celebrates its 90-ish year, it's time for an epic pool party and dance. The Birthday Bash promises to be an exciting evening of music, dancing, and merriment. Join fellow attendees to commemorate Solair's long-standing commitment to providing a welcoming and enjoyable naturist experience.
Throughout the convention, attendees will be offered a variety of recreational activities with a focus on body positivity, wellness, community-building, and the naturist culture. Solair Recreation League's picturesque grounds also provide ample opportunities for outdoor activities such as swimming, hiking, pickleball, and volleyball.
"We are thrilled to host the AANR Convention this year and provide an unforgettable experience for our guests," said the President of Solair Recreation League. "With a diverse lineup of events and celebrations, we aim to create a supportive and engaging environment that celebrates the naturist community and promotes body acceptance and self-confidence."
# # #
About AANR:
For 90 years AANR has been the preeminent authority and voice in North America, staunchly protecting the freedoms and rights of those who participate in wholesome, family-style nude recreation. Socially, AANR encourages Nakation℠ vacations as healthy, eco-friendly, transformational travel experiences; while AANR's membership demonstrates conclusively that life is enhanced by the naturalness of social nudity. From exercise to relaxation, a person's physical, spiritual, and mental well-being is enriched through nude recreation and slumber. AANR supports over 180 chartered clubs, resorts, and campgrounds (and is growing), and serves more than 30,000 members and 52 million skinny dipping enthusiasts throughout the U.S., Canada, and internationally. For more information about AANR and for facts related to nude recreation, visit
www.aanr.com
or call 1-800-TRY-NUDE (879-6833). To receive information on upcoming news and events, sign up for our newsletter here.
Media Contact:
Mary Jane Kolassa
Public Relations Consultant
Phone: (407) 463-0040
Email:
MJKolassa@gmail.com