For Immediate Release
"Where Does a Nudist Put a Lapel Pin?" – Question Answered Here
(Kissimmee, Florida - August 25, 2022)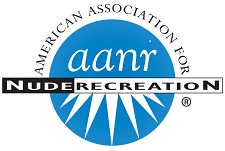 "Where Does a Nudist Put a Lapel Pin?" – Question Answered Here
Or Find Out Firsthand at the Nation's Largest Bipartisan Gathering of State Legislators
August 1-3, 2022
KISSIMMEE, Fla. (July 18, 2022) – Members of the American Association for Nude Recreation (www.aanr.com) will be handing out thousands of commemorative lapel pins to lawmakers and staff during the National Conference of State Legislatures (NCSL) August 1-3 at the Colorado Convention Center.  They're also happy to answer the question, "Where does a nudist pin it?"
"On our lapels of course," says AANR Executive Director Erich Schuttauf.  "At a formal meeting such as NCSL, AANR representatives are fully clothed in business attire complete with lapels and pins." Adds Schuttauf, "We regularly attend NCSL to educated policymakers on our advocacy on behalf of officially sanctioned clothing optional beaches and numerous other timely issues.  Nudists are good stewards of the environment, one reason we are called naturists.  This too is important to convey to state legislators."
AANR pins enjoy great popularity as souvenirs of the conference, where leaders in state government gather to discuss creative solutions to such issues as the budget crisis currently experienced in so many treasuries.  Associations, companies, and causes work booths where they distribute literature and speak on behalf of constituents.  When legislators stop by the AANR booth, they learn how affiliated clubs contribute to local economies, promote tourism, and create jobs, as well as picking up this year's pin.  AANR changes the design of its pin each year to enhance the collectible factor; in fact, AANR representatives have been bringing different pins to NCSL for 30 years and are often told by legislators and conference attendees they too have the full set.
"AANR.com is all you really need to know to access considerable information about our history – we're 91 years young this year – along with the location and amenities of our clubs and resorts across North America, and the health benefits, positive body image and personal fulfillment nude recreation fosters," adds Schuttauf.
And what about lapel pins when nudists are enjoying the "uniform" of their favorite club or beach?  "We put them on our hats and visors!"
VISIT US AT BOOTH 334 in the Colorado Convention Center Exhibit Hall.
###
Media Contact prior to the Convention:
Carolyn Hawkins
AANR
1-800-TRY-NUDE
# # #
About AANR:
For 90 years AANR has been the preeminent authority and voice in North America, staunchly protecting the freedoms and rights of those who participate in wholesome, family-style nude recreation. Socially, AANR encourages Nakation℠ vacations as healthy, eco-friendly, transformational travel experiences; while AANR's membership demonstrates conclusively that life is enhanced by the naturalness of social nudity. From exercise to relaxation, a person's physical, spiritual, and mental well-being is enriched through nude recreation and slumber. AANR supports over 180 chartered clubs, resorts, and campgrounds (and is growing), and serves more than 30,000 members and 52 million skinny dipping enthusiasts throughout the U.S., Canada, and internationally. For more information about AANR and for facts related to nude recreation, visit
www.aanr.com
or call 1-800-TRY-NUDE (879-6833). To receive information on upcoming news and events, sign up for our newsletter here.
Media Contact:
Mary Jane Kolassa
Public Relations Consultant
Phone: (407) 463-0040
Email:
MJKolassa@gmail.com